Matt McCarton
Coach Level 200
Coach Matt has been playing rugby for over thirty years and coaching for a decade.
His rugby career started at Virginia Tech where he played scrum half for four years play (1989-1992). After graduation he played for men's clubs in the DC area, including NOVA, Washington Irish and West Potomac, until 2000 when he moved to Culpeper. He played for Rappahannock RFC in Fredericksburg in their inaugural season, then switched to Warrenton RFC.  He, along with fellow coach Jason Henderson, were key players in the club's unbeaten 2009 season when they won the Potomac Rugby Union (PRU) Division III Championship and again in 2014 when Blue Ridge RFC won the (PRU) Division IV Mid-Atlantic Regional.  
Matt is passionate about rugby and wants to bring the sport to a new generation of players. He has three sons that play for the club.  He started coaching in the summer of 2011 as a coach for Prince William Youth Rugby's U9 team. Matt is a founding member of CYRFC.
Chris Russell
Coach Level 300
Certified Referee USA Rugby Certified Course Leader – Level 200 World Rugby Coach Educator Certification Chris has over 20 years playing experience on three continents. He has over 20 years of experience in coaching both men and women at club, college and youth levels. He also has over 12 years coaching boys and girls youth soccer. Playing Experience England – Bridlington School, USA – Eagle Rock (CA), GWRFC (now Potomac Exiles) Germany – Frankfurt 1880 Club, Australia – North Sydney Coaching Experience Eagle Rock (CA), GWRFC (now Potomac Exiles), James Madison University (VA) Washington Furies, Warrenton Marauders, Warrenton Wolf Pack, Culpeper Youth Rugby, University of Virginia Additional Experience Sterling Youth Soccer Boys & Girls select sides coach Sterling Youth Soccer Board of Directors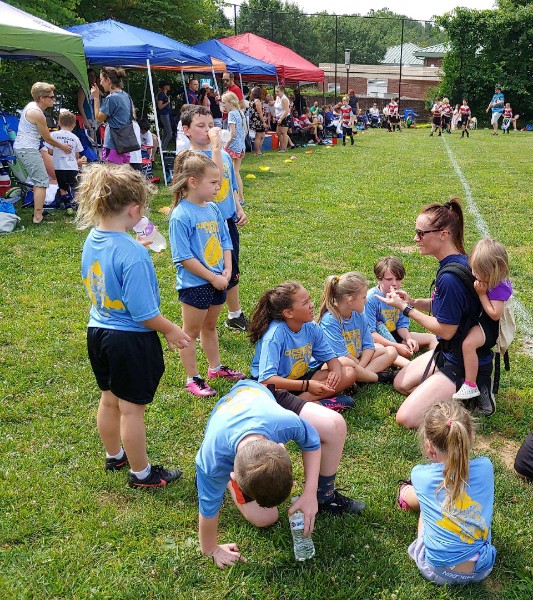 April Henderson
Coach
April has had a passion for sports her whole life. Volleyball, basketball, softball, you name it. As an aggressive player she was always looking for a little more contact in the sports. Rugby was introduced to her at California University of PA in a club sport and she was hooked. She played a variety of positions on the field. She even met her husband, fellow rugby coach Jason, playing rugby in college.
Currently April is a group fitness instructor at Gold's Gym Culpeper and a stay at home Mom of four. Two of their children are ruggers and they look forward to making it a family affair for all six of them!  As a former elementary school teacher, fitness instructor, sports player, and Mom coaching seemed like a good fit. She's looking forward to helping grow this sport in our area.
Jon Carter
Coach Level 200
Jon started playing rugby in 1993 for "Mother's Rugby" at Mary Washington College. 
The team enjoyed considerable success, advancing to the East Coast semi-finals, winning the plate division at the Cherry Blossom tournament in Washington, DC. and finished the season 21-3 earning a top 5 ranking from Rugby Magazine. They also toured Ireland going 1-1 in match play, quite an accomplishment for a US college side.
After college Jon played rugby for Western Suburbs Rugby, a highly rated Division III team, where he is still an active player.  He plays the games most coveted position. . . . Prop Forward.
​
As a founder of Culpeper Youth Rugby, Jon is very excited to see the growth & enthusiasm for rugby in our community.  Jon and his wife Rachel live in Culpeper with their two children; Hamilton & Magnolia.
Jason Henderson
Coach
Jason has been playing rugby for 17 years and has recently started coaching in Culpeper. His rugby career started at California University of Pennsylvania where he played Outside Center for three years (2002-2005). Junior/senior years he was Selected to Allegheny Rugby Union Select side. After graduation he played for Warrenton RFC for six years. In 2009 Jason and Coach Matt were the Potomac Rugby Union (PRU) Division III Champions. Also, in 2014 they were with Blue Ridge Rugby on their run to win (PRU) Division IV Mid-Atlantic Regional. Jason started coaching Culpeper in the summer of 2017. He is married to fellow Coach April. They met playing rugby in college. They four children, two of which play for Culpeper YRFC. Jason played with fellow coach Matt for more than ten years (2006-?). They both faced off against fellow coaches Jon and Mike. Rugby has brought us and our families to this awesome sport. We hope to flood this county with little ruggers and some day have rugby provide for them.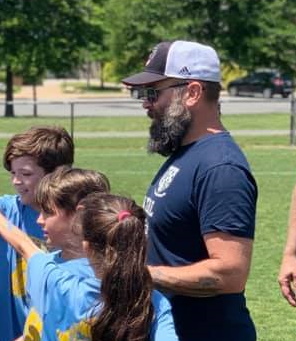 Curtis Brownley
Coach Level 200
Curtis played with VRFC in Charlottesville as a prop and has been a Rugby Junkie ever since. Curtis has worked coaching other youth sports and clubs. Curtis and his wife Mishka live on the outskirts of Orange VA and is excited to help grow Rugby at the youth level in the USA.
Michael Clark
Coach
Coach Mike has been playing rugby for over thirty years. Started coaching with Coach Jon and
Coach Matt. He is still active playing club and Old Boys.
His rugby career started in the Air Force at Seymour-Johnson AFB. He was introduced to the game
by his roommate. After his first game he was hooked and never looked back! He has played wind,
fullback and has stepped in at fly half and center back. He, has played for clubs in North Carolina,
Triad, UNC Greensboro. Before moving back to NOVA. He started playing with Western Suburbs
Rugby Football Club in 1997 where he played DII, DIII and DIV.
Coach Mike has one son that plays with the club. Mike is a founding member of CYRFC.